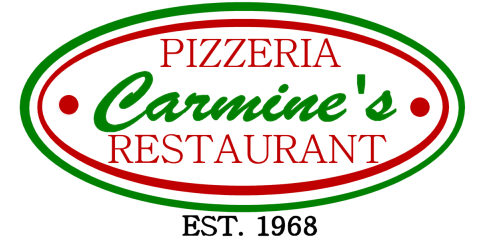 Carmine's Pizzeria and Italian Restaurant
Catering Menu
For 30 years, Carmine's has offered exceptional catering for a wide variety of events, including:
Corporate Luncheon
Holiday Party
Birthday Party
Cocktail Party
Bridal Shower
Wedding
Baby Shower
Christening
Communion
Confirmation
Graduation
Funeral
The staff at Carmine's specializes in working with you to provide quality food, using the freshest ingredients, to make all of your catering events both memorable and affordable.
How to Order:
1. Select the menu items you want from the choices below; there are no minimum or maximum restrictions. If you have a craving for something unique that you do not see listed, please ask our manager - he loves to be creative!
2. Estimate the number of people (12 yrs old and up)
3. Give us a call or stop by. We will review your choices, give you any suggestions, and quote you a price and quantity of trays you will need for the size of your party.
5% Discount on orders of 6 or more trays
30% non-refundable deposit due at the time of order
24-72 hours final notice, prior to the event date, on all orders
Upon Request Only:
All Trays include Bread, Salad, Plasticware, Plates and Napkins on Orders for 10 or More People at No Extra Charge
Chaffing Trays, Sterno, Silverware and China Rentals available for an additional fee.
Delivery, set-up, servers, and clean-up available at additional charges.
APPETIZERS (COLD)
Vegetable Platter
Cubed Cheese Platter
Cubed Meat/Cheese Platter
Meat/Cheese Platter
Italian Potato Salad
Seafood Salad
Shrimp Cocktail
Scungilli Salad
Calamari Salad
Baccala Salad
Pasta Salad
Finger Sandwiches
Wrap Platters
Antipasto Salad
Italian Antipasto Salad
Fruit Salad or Fruit Platter
APPETIZERS (HOT)
Clams Casino/Dozen
Clams Oreganato/Dozen
Baked Mussels/Dozen
Stuffed Mushrooms/Dozen
Stuffed Peppers/Piece
Mini Stromboli/ Piece
Mini Calzones/Piece
Fried Clam Strips/Lb
Chicken Wings/Lb
Fried Mozzarella Sticks/Dozen
Fried Zucchini Sticks/Dozen
Fried Ravioli/Dozen
Chicken Fingers/Dozen
Stuffed Pizza
Party Subs 3-4-5-6 Foot
Up to 3 Meats, 1 Cheese . . . 12.95/Ft.
Up to 4 Meats, 2 Cheeses . . . 14.95/Ft.
Cheese: American, Provolone, Swiss
Meats: Ham, Capicola, Turkey, Pepperoni,
Genoa Salami, Roast Beef
Also Available: Tuna Fish, Chicken Salad or Frilled Chicken
(Prices upon Request)
Featuring Thumann's Deli Meats & Cheeses
ENTREES
Eggplant
Parmigiana
Rollitini
Stuffed
Chicken
Parmigiana
Marsala
Peppers & Onions
Chicken & Broccoli
Francese
Piccata
Pizzaiola
Florentine
Cacciatore
Fried Chicken
Roasted
Primavera
Murphy
Veal
Parmigiana
Marsala
Peppers & Onions
Sorrentino
Francese
Piccata
Pizzaiola
Saltinbocca Alia Romana
Beef and Pork
Mini Meatballs
Meatball Parmigiana
Sausage & Peppers
Sausage Parmigiana
Roasted & Carved
(Minimums Required)
BBO Ribs
Beef & Broccoli
Roast Beef with Gravy
Turkey with Gravy
Honey Glazed Ham
Pork Tenderloin
Past Al Forno
Baked Ziti
Baked Ziti with Meat Sauce
Baked Ziti Sicilian Style
Meat Lasagna
Vegetable Lasagna
Manicotti
Stuffed Shells
Cheese Ravioli
Baked Cheese Ravioli
Spinach Ravioli
Specialty Pasta and Sauces
Cheese Tortellini Alfredo
Fettuccini Alfredo
Gnocchi in Meat Sauce
Gnocchi in Tomato Sauce
Pasta Primavera
Cavatelli and Broccoli
Pasta in Vodka Cream Sauce
Rigatoni Portafino
Broccoli Rabe
Macaroni & Cheese
Traditional Pasta and Sauces
Capellini, Spaghetti, Linguine, Ziti or Rigatoni
In your choice of...
Tomato Sauce, Mushroom Sauce, Marinara Sauce, Meat Sauce, Butter Sauce, Red or White Clam Sauce, Red or White Seafood Sauce or Garlic & Oil
Hot Seafood
Seafood Antipasto
(mussels, shrimp, clams & calamari)
Fried Calamari
Calamari Casserole
Scungilli Casserole
Mussels Marinara
Mussels Alia Bianco
Baked Mussels
Shrimp Parmigiana
Shrimp Scampi over Linguine
Shrimp and Broccoli over Linguine
Shrimp Fra Diavolo over Linguine
Shrimp Francese over Linguine
Seafood Combo over Linguine
Rock Shrimp over Linguine
Scallops over Linguine
Zuppa di Pesce
Stuffed Flounder
Sole Francese
Salmon Piccata
ON THE SIDE
Rice Medley, Assorted Sautéed & Steamed Vegetables, Vegetable & Potato Medley, Macaroni Salad, Potato Salad, Cole Slaw
The staff at Carmine's looks forward to working with you to create a party menu that satisfies all of your catering needs. Thank you for your continued patronage!